Lebanon Levi and his gang of Amish enforcement personnel are back for another season of Discovery Channel's hit show Amish Mafia.
He's back, but is he real?
Obviously, Lebanon Levi is a living, breathing person… who's the star of a reality TV show. But in today's world, is any reality TV actually real?
The answer in Lebanon Levi's case is yes… but, no. Levi Stoltzfus is his name. Running the Amish Mafia is (supposedly) his game.
According to his biography on the show's website, Levi "serves as protector of the community for a price. He exists above the law and occupies the role of police, judge and jury," implying the Amish solely utilize Lebanon Levi's crew when trouble arises.
This is the first of semi-truths in the saga of the Amish Mafia. While the Amish have their own way of dealing with conflicts ("church discipline"), they can – and will – contact "outside" authorities (including the police) when necessary. In addition, both the Amish and Mennonites are pacifists. They are non-violent and believe in turning the other cheek rather than retaliation or returning evil for evil. Simply put, an Amish Mafia is truly an oxy-moron.
Additionally, it was reported that Lebanon Levi's MySpace profile (which was deleted after discovery by the public) read as follows: "im outgoing love to hang out love friends love to work going on vacation been many places!! i love four wheeling going to my cabin enjoy sports hunnting fire fighting helping others! i love traveling going to the beach concerts or just a nice time at home!! im easy going loving with a warm heart dont like to hurt others or it hurts me. hate to be bored lol!! i love to hang out with friends aswell i love somewhat daring things did a 300 feet bungy jump was exciting!! as me anything i will tell you lol"
Doesn't quite sound like the hard-core Mafia type! Not to mention… the Amish don't actually use social media… or do they?
Amish Mafia, like many other reality shows, took a few elements of real-life truth and built an entire TV series around those elements.  Though technically, one couldn't even really dub Amish Mafia with the disclaimer of "Based on a true story" considering the vast amount of misrepresentations in the Lebanon Levi drama portrayed on the show.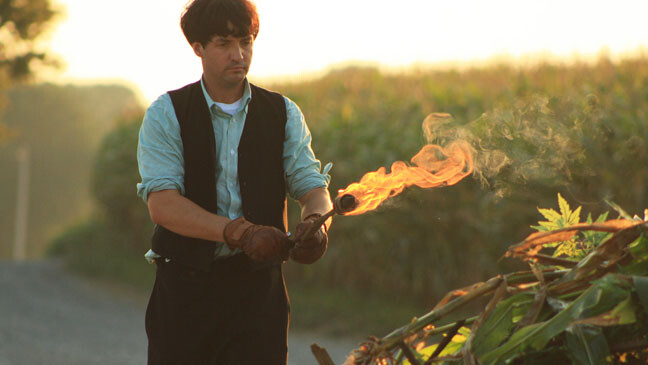 Prior to the release of Amish Mafia – like many other Amish and Mennonite men – Lebanon Levi was a volunteer firefighter in his community. However, in August of 2012, Levi appeared before his local borough council for permission to set fire to a mobile home. According to the Lebanon Daily News, "Stoltzfus said a crew will film him combating a fire in the trailer for the purpose of a creating a segment for a Discovery Channel program." And guess what? A recent episode of Amish Mafia shows flames shooting out of Lebanon Levi's trailer. The pre-approved fire is said in the show to be the work of… Merlin, Levi's Amish Mafia rival! (A demonstration of the "real-ness" of reality TV?)
Is Lebanon Levi even Amish? Again, yes… but, no. He grew up Amish. He dresses Amish (for the show). Sometimes, he even rides in a buggy. But in a "real" Amish world, you must be baptized into the church to actually be Amish.
Amish Baptism is the final step in the decision to be Amish. No one is simply born into the Amish Church. At age 16, Amish youth are given the opportunity to "sow their wild oats," engaging in any activities they desire (particularly experimenting with those things which would otherwise be forbidden by the church, such as drugs, drinking, driving, TV, Internet, etc.). Following this time, they must decide whether to remain a part of the outside world, or to join the Amish Church through Baptism. Being Amish is a decision each Amish young person chooses to make – or not make.
Lebanon Levi and his crew of vigil anties?  They made the decision not to be Amish.  Each of Amish Mafia's main characters was never baptized into the Amish Church; therefore, Lebanon Levi and crew are not actually Amish.  This is why while other Amish characters on the show have their faces blurred out, avoid the cameras, and maintain a traditional plain life, Levi and his gang can operate outside the actual Amish community, ride in (and drive) cars, and, well, have their own TV show.
So while Lebanon Levi may be a real-life, once-upon-a-time Amish person, he isn't currently Amish and the Amish Mafia simply isn't real. 
Police liaisons to the Amish Community from the Lancaster Country District Attorney's office have no indications of such an organization existing.  Amish Church leaders have repeatedly refuted any such group.  Steven Echternach, Strasburg, Pennsylvania's Police Chief calls Amish Mafia, "an exploitation of the Amish culture."
Or as Pennsylvania's Messiah College professor and Amish expert David Weaver-Zercher stated in a 2013 public lecture, "There is no Amish Mafia."
(Images used in this post are from the Discovery Channel's TV series "Amish Mafia."  Article by Krystal Heath.)
Now, back to Gazebos!